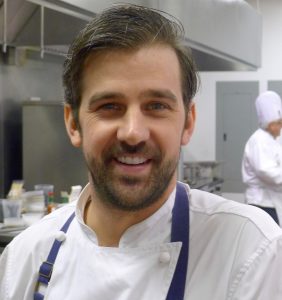 Ryan Hotchkiss
Chef/Owner – BÜndok
Ryan started working in restaurants when he moved to Whistler shortly after high school his first job was at an lndian restaurant in the dish pit. He then moved onto the line for a short while before moving to the front of house. After a year he decided that he truly enjoyed the kitchen.
Ryan moved back from BC and started his apprenticeship immediately at lL Pasticcio. After a year at Il Pasticcio Ryan moved on to The Sugar Bowl, then Sage at the River Cree and finally to Jack's Grill where he worked for 3 years, finishing as the head chef.
ln the meantime he completed his chef apprenticeship and business school at NAIT to receive his Blue Seal in cooking.
Upon the closing of Jack's Grill Ryan moved on to help with the opening of Bar Bricco under Daniel Costa. Ryan worked at Bar Bricco for two years before deciding to branch out on his own. His new restaurant Bundok began construction in June of 2016 and opened in January of 2017.