Ron P. Korn  —  Executive Chef
Ruth's Chris Steak House
Ron Korn was educated in Burnaby, B.C. and in 1989 graduated from the Culinary Arts program at Vancouver's B.C.I.T. During the 1980's, he gained cooking and kitchen experience at several restaurants in the Vancouver area. Moving to Edmonton in the early 90's, he was soon working as a sous-chef, chef de cuisine and executive chef at several notable restaurants including the Westin Carvery, The Creperie and Café Paradice at the Baccarat Casino.
In 1997, he opened up his own 50 seat restaurant in Edmonton – Hemingway's Fine Dining & Spirits which he operated for six years until Tom Goodchild lured him away to become the Executive Chef of the Moose Factory on Calgary Trail. A year later, moving just up the block, he became the Executive Chef of the Best Western Cedar Park Inn where he oversaw the hotel's banquet, restaurant, lounge and room service operations.
In 2006, Ron was appointed Edmonton Executive Chef of the soon-to-be-opened, prestigious Ruth's Chris Steak House.  In preparation for his new role, he travelled to San Diego for  many weeks of corporate, in-depth training which saw him learning the American perspective on all aspects of running a restaurant, from dishwashing to general management. Upon returning to Edmonton, he oversaw the grand opening of the restaurant which has continued to be one of Edmonton's favourite high-end eateries. He has since been involved in all aspects of the restaurant's operations as well as catering banquets ro well-known groups such as La Chaîne des Rôtisseurs and to outside events such as the Oilers Alumni and Tee Up For Tots Golf Tournaments.
Ron's years of experience, additional education and professional activities in the community have well-qualified him to efficiently manage virtually all aspects of this major restaurant's operations from menu planning, food management and preparation, inventory controls to acquisition and use of kitchen equipment, employee supervision and training, and health and safety procedures.
A Chef Member of the Canadian Culinary Federation who bestowed The Outstanding Member of the Year Award (formerly known as Chef of the Year) and Citations Of The Year in 1999 and 2001, Ron Korn is also an Alberta Culinary Arts Salon multi-year medal winner.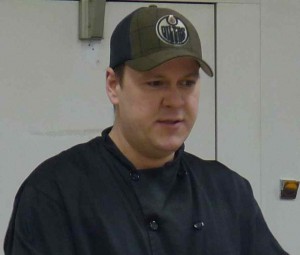 Brandon Williams
Brandon has been cooking for approximately 15 years.  He received his Journeyman Red Seal from Lethbridge community college.  He has worked at Land Of Lakes Golf Course, Fantasyland Hotel, East Side Mario's. Brandon has  been with me at Ruth's Chris for the past 5 years currently and currently holds the position of Broiler Coach