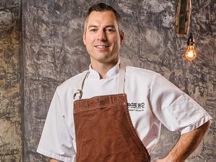 Blair Lebsack
Executive Chef, Owner
RGE RD Restaurant
Chef and Owner, Blair Lebsack along with Front of House Manager and partner Caitlin Fulton founded RGE RD – a dining experience meant to connect diners in Edmonton's unique culinary landscape.
Blair is inspired by the wealth of seasonal ingredients available in Alberta along with the people and stories behind them. In the pursuit of a community dining experience he's developed relationships with farmers and producers by launching a series of dinners held at Edmonton area farms. What better way to celebrate eating than gathering at the rural range roads where our food is grown? RGE RD dinners have developed a great following and will continue to lay down roots in Edmonton with a restaurant by the same name. RGE RD is an urban gathering place where the farm dictates the menu. It is a reflection of chef Blair himself: Laid-back, country-inspired and striving for culinary excellence.
Blair Lebsack, was named Top 40 Foodie under 40 by Western Living. Why? Because he promotes Alberta farmers and has brought an international dining experience into Edmonton's backyard.
With a base in French cooking, Lebsack has gone on to create his own brand of Canadian cuisine or, to be more specific, Alberta cuisine. By using prairie-raised livestock and locally grown fruits and vegetables such as horseradish from the river valley, Alberta field strawberries and greens from Edmonton's Lactuca Urban Farm, Lebsack creates dishes that are completely homegrown.