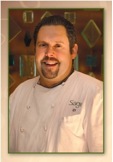 Christophe Ithurritze
Executive Chef  –  River Cree Resort And Casino, Alberta, Canada
He was educated at the Rocailles Culinary Institute, Biarritz, France where in 1988 he received a Bachelors Degree in Hotel and Restaurant Management (Kitchen).
In 1989, Christophe crossed the Atlantic to settle in Las Vegas NV where he joined the Wolfgang Puck Fine Dining Group. Except for a short two year hiatus, he worked here for a total of 15 years as a partner as well as the organization's Corporate Chef and Directory of Pastry. During this time, he created and implemented new ideas in 7 multimillion dollar establishments located not only in Las Vegas (Spago, Chinois, Lupo, Postrio, WP Bar and Grill), but also in Hawaii (Spago) and Palo Alto California (Spago). He oversaw the cooking, training and managing of 5 executive chefs, 30 sous-chefs and over 200 employees located in 7 kitchens company wide while also supervising in-house banquets and off-premise catering parties for groups ranging from 12 to 500 people. While with WPFDG, he received many recognitions including: 2001 "Best Pastry Chef of Las Vegas" Award; 2003 Las Vegas "Up-coming Chef of the Year" Award; and the 2005 "In Business Las Vegas Best 40 under 40" Award;
His 2 years away from the WPFDG was with the Las Vegas Mirage Hotel's Renoir and Onda Restaurants as the Specialty Room Pastry Chef. While here, recognition of his culinary skills continued as he placed 4th at the Worldwide Olympic Pastry Competition 1999, received Iron Chefs' Alessandro Stratta and Todd English Achievements Awards – Best Chefs of the West – John Shouppe 2000, was seen on Live with Al Roker and received a nomination for Pastry Chef of the Year at the James Beard Foundation 2000.
In 2007, he commenced two restaurant startups of his own – "Christophe's at the Gambit" in Vienna, IL and Marche Bacchus in Las Vegas, NV.
Commencing in 2008, Christophe became a Food and Beverage Consultant with Las Vegas based Blau and Associates – a strategic restaurant planning and development company. This involved travel to various mid-west US locations to provide consulting advice to clients such as Net Jets in Flight Catering, Vail Cascade Resort, Atwater on Gore Creek, Encore Wynn Hotel Resort, Society Café (Las Vegas), Sofitel (Los Angeles, Beverly Hills) Palms Place, Simon Restaurant, (Las Vegas).
In June 2009, with its deep Las Vegas roots and connections, the River Cree Resort and Casino lured Christophe north of the 49th parallell to Edmonton Alberta. Here, over the last three years, he has served as the Executive Chef for three major food outlets at the resort – Sage, Tap 25, and Live. In addition to his responsibility for all food served in these restaurants, Christophe oversees all related culinary operations including purchasing and inventory control programs for food provisions, kitchen supplies and equipment, as well as the creation and implemention of new menus and supervision and management of resort kitchen and serving staff which often cater to banquets of up to 800 people.