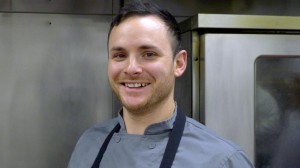 Chef – Alexei Boldireff
A graduate of NAIT's Culinary Arts and Retail Meat Cutting programs, Alexei has worked in some of Edmonton's finest restaurants including Cafe de Ville, Cafe Select, The Blue Pear, and The Marc. In 2012, Alexei took a Chef de Partie position in Calgary at Model Milk under Justin Leboe (Best Chef in Canada 2013). That same year, the restaurant was named #2 on En Route's Best New Restaurants in the country. There he climbed the ladder through management until 2013 when he left to open S'WICH Food Truck in Edmonton, which now also runs in the winter at Macewan University downtown.
An accomplished pastry chef, bread baker, butcher, charcuterer and chef, Alexei has staged in many kitchens with many notable Canadian chefs, including Connie de Sousa (Charcut, Top Chef Canada), Susur Lee (Susur, Lee Lounge), and Robert Clark (C Restaurant Vancouver). He has also cooked internationally working with Michael Reidt (Miami), Antonio Sorrentino (Chiancianno, Tuscany), Kevin Thornton (Dublin, Top Chef Ireland, Michelin Star), and Seasmus O'Connell (Cork, No Reservations).
His breadth of experience has led to a cooking style that is very much his own. Alexei's food is based around simple execution and big, bold flavours. When possible, he opts to craft every component of his dishes in-house, using only local ingredients from suppliers whom he knows and trusts. Presently, The S'WICH Food Truck boasts some of the best artisan bread in Edmonton along with creative, asian-inspired charcuterie. There is also a restaurant in the works, hopefully opening in the fall of 2016.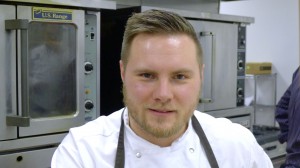 Chef – Dave Leeder
Cooking as a craft inspired David Leeder through traveling and experiencing different cuisines and cultures while backpacking abroad. David enrolled in the NAIT Culinary Arts program in 2009 after returning home and never looked back. After gaining progress and opportunities early on in his career, David would eventually have a life changing experience getting to Intern at 3 Michelin Star Restaurant Le Bernardin in New York City, which broadened his eyes to how refined and beautiful fine cuisine could be.
After graduation from the NAIT Culinary arts program in 2011, David would cut his teeth working with Basque Chef Martin Berasategui in San Sebastian, Spain at his flagship 3 Michelin Star Restaurant, living on a cot in the restaurants wine celler. Upon leaving Spain David was offered an opportunity at a restaurant in Copenhagen Denmark receiving a lot of international buzz, David would find himself working for Chef Christian Puglisi at Restaurant Relae.
After traveling Europe and working in some of the world's finest kitchens, it was time to look back at Alberta's growing dining scene. David landed in Calgary and obtained a position at Muse Restaurant working with long time friend Chef JP Pedherny and some of the hungriest talent in the province.
In August 2014 David was given to opportunity to return to Denmark and take an internship under Chef Rene Redzepi at Noma in Copenhagen. At Noma, David would be thrown into the fire and take on the challenges of running the restaurant's grill section.
David has now returned to Edmonton to explore opportunities in this city's growing dining scene.