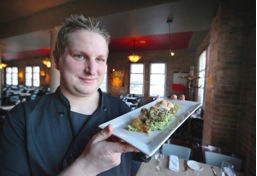 Jan Trittenbach,
Executive Chef  –  Packrat Louie
Jan Trittenbach, the head chef at Packrat Louie, recently competed at the National Gold Medal Plates championship held in Kelowna Feb. 10 and 11, 2012.
He won this right by winning the coveted gold medal over 10 other chefs at Edmonton's Gold Medal Plates competition, held back in November 2011 before a crowd of 750 diners at the Shaw Conference Centre.
The Kelowna event had three components.
The first test – competitors taste a mystery wine and then create a complementary dish to feed about 350 guests.
The second test was a black box competition – create two dishes in only 60 minutes for a small panel of judges from a box with an assortment of surprise ingredients inside
Third – prepare a signature dish for judges and a room full of 600 hungry diners on a food budget of only $1,250
While he did not medal at this event, he did finish strongly in this Gold Medal Plates competition – a competition in which he has participated 3 times now – twice as an executive chef.
Background:
Born in Switzerland
Trained in rigorous Swiss culinary tradition in Lucerne at the Culinary Arts Institute
Graduated as a Red Seal professional chef at the age of 19
Cooked in Switzerland until he was required to do two years of compulsory military service
Moved to Canada with his family.
Worked with renowned local chef Peter Johner at Packrat Louie for 3 years
Stayed on after Johner retired. He's been there ever since.