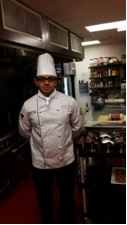 Deepak Arora      –   Executive Chef
Courtyard by Marriott West Edmonton
Deepak is a graduate of a multi-year degree course in Hospitality Management and Catering technology in India.
He started his career as demi Chef de partie with Taj Singapore Airlines Catering. [Singapore Airlines is the flag carrier of Singapore and a 5-star airline serving South Asian and kangaroo route markets].
Following additional studies in European cuisine, Deepak joined Carnival Cruise Lines as a Chef de Partie and soon became Assistant Food Manager.
In 2007, he moved to Canada and became Senior Sous Chef and then Chef at an Edmonton location of Moxie's Classic Grill, a national restaurant chain with over 63 locations.
In 2011, Deepak became Director for food services at Aramark, a company providing food and facilities management services to healthcare institutions, universities, stadiums, arenas and businesses in 22 countries around the world.
He joined the Courtyard By Marriott in August 2013 as its Executive Chef.
Deepak has has helped to organize and cater many special events including the Shaw Conference Centre's 'Fine Chef's' event and an upcoming Chaine de Rotisseurs evening in February, 2014.
Ifran Khan   –   Sous-Chef
Courtyard by Marriott West Edmonton
Like Deepak, Ifran completed a three year degree course in Hospitality Management and Catering technology in India.
After graduation, he started his career with the five star Renaissance Mumbai Convention Centre Hotel in Mumbai, India.
Ifran moved from India to the Intercontinental City Hotel in Abu Dhabi, United Arab Emirates. This five star hotel provided him with many food preparation experiences including middle eastern cuisines and an abundance of seafood dishes.
Ifran's career next took him to the restaurants of the high-end Crowne Plaza Muscat cliff-top hotel overlooking the Gulf of Oman which offered English-style, Italian and Iranian cuisines.
Half way around the world, he then was hired by the Ritz Carlton in Grand Cayman where he worked with various eclectic, western and haut-cuisine menus.
He is now the sous-chef with the Courtyard by Marriott in West Edmonton.
Over his career, Ifran has participated in a number of culinary competitions in Dubai and the Grand Caymen, and has also been a part of several Chaine de Rotisseurs events.