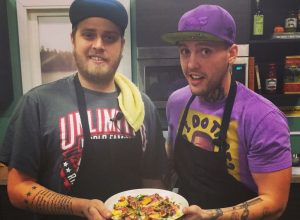 Tyson Wright & Levi Biddlecombe – Chefs/Owners

Chef / Owner Levi Biddlecombe
With only 9 years of experience in the industry, Chef Levi Biddlecombe has many accomplishments under his belt. A few of these accomplishments include appearances on Chopped Canada 2016 and in Gold Metal Plates 2017. Levi has owned his own Food Truck, Attila the HUNgry – which was awarded People's Choice Best Food Truck in Edmonton in 2015. Attila the HUNgry had also served Edmonton the award-winning dish, Duck Tots: Ranked #27 of the top 100 in Edmonton.
Chef Levi has also worked in many great kitchens; including Zinc at the AGA – Under Head Chef Dave Omar, Le Beaujolais (4 Diamond Restaurant in Banff, Alberta), and was most recently the Head Chef at Packrat Louie.
Chef / Owner Tyson Wright
With 16 years of vast experience in the industry, appearances in Gold Metal Plates, and having cooked in many different kitchensChef Tyson has plenty of great accomplishments; including cooking for many prestigious Guests like the Edmonton Oilers, Nickelback, Blink 182, and Stephen Harper as 1st Cook Apprentice Chef for All Star Banquet Rooms and Backstage Events – Under Head Chef Mike Doppler, Silver Star Mountain (Vernon BC) and was the Head Chef at Hart House Wine & Tappa in Camrose, AB.