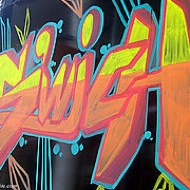 Alexei Boldireff  
Executive Chef/Owner
S'WICH Food Truck
A graduate of NAIT's Culinary Arts and Retail Meat Cutting programs, Alexei has worked in some of Edmonton's finest restaurants including Cafe de Ville, Cafe Select, The Blue Pear, and The Marc. In 2012, Alexei took a Chef de Partie position in Calgary at Model Milk under Justin Leboe (Best Chef in Canada 2013). That same year, the restaurant was named #2 on En Route's Best New Restaurants in the country. There he climbed the ladder through management until 2013 when he left to open S'WICH Food Truck in Edmonton.
An accomplished pastry chef, bread baker, butcher, charcuterer, and chef, Alexei has staged in many kitchens and with many notable Canadian chefs, including Connie de Sousa (Charcut, Top Chef Canada), Susur Lee (Susur, Lee Lounge), and Robert Clark (C Restaurant Vancouver). He has also cooked internationally, working with Michael Reidt (Miami), Antonio Sorrentino (Chiancianno, Tuscany), Kevin Thornton (Dublin, Top Chef Ireland, Michelin Star), and Seasmus O'Connell (Cork, No Reservations) to name a few.
His breadth of experience has led to a cooking style that is very much his own. Alexei's food is based around simple execution and big, bold flavours. When possible, he opts to craft every component of his dishes in-house, using only local ingredients from suppliers whom he knows and trusts. Presently, The S'WICH Food Truck boasts some of the best artisan bread in Edmonton, along with creative, asian-inspired charcuterie.
David Leeder 
Rouge Restaurant – Edmonton
EGDC Assistant Mentor Chef 
Cooking as a craft inspired David Leeder through traveling and experiencing different cuisines and cultures while backpacking abroad. David enrolled in the NAIT Culinary Arts program in 2009 after returning home from and never looked back. After gaining progress and opportunities early on in his career, David would eventually have a life changing experience getting to Intern at 3 Michelin Star Restaurant Le Bernardin in New York City, which broadened his eyes to how refined and beautiful fine cuisine could be.
 After graduation from the NAIT Culinary arts program in 2011, David would cut his teeth working at Rouge restaurant in Calgary under chef Paul Rolgowski. Then taking on the biggest challenge of his career working with with Basque Chef Martin Berasategui in San Sebastian Spain at his flagship 3 Michelin Star Restaurant, living on a cot in the restaurants wine celler. Upon leaving Spain David was offered an opportunity at a restaurant in Copenhagen Denmark receiving a lot of international buzz, David would find himself working for Christian Puglisi at restaurant Relae.
 After traveling Europe and working in some of the worlds finest kitchens it was time to look back at Alberta's growing dining scene. David landed in Calgary and obtained a creative position at the Muse Restaurant in Calgary working with a new ownership team and some of the hungriest talent in the province.
 Currently, he is with the Rouge Restaurant in Edmonton.
Anthony Britton
EGDC Mentor Mixologist
Tony Britton started in the hospitality industry many years ago and was trained by Edmonton's best: Erick Rosende, Shadow Welch and Shilo McKay.
Since then, he has had experience as a cocktail specialist with many different organizations, events and local bars. He has also managed the Marriott Renaissance Halo Bar.
As a mixologist, he considers himself somewhat unique from from others in the market because he focuses on fresh ingredients and premium products served with style and entertainment. Tony's greatest passion is creating the next great cocktail to bring people together in a social atmosphere.