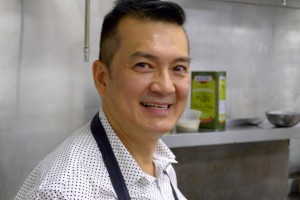 Sonny Sung – Sorrentino's Corporate Executive Chef
Born in Taiwan and raised in Japan, Sonny says he had to fight his Asian family's traditional belief that cooking was only for women.
He persevered and today he is one of Edmonton's most respected corporate chefs. He graduated from the prestigious Culinary Institute of New York in 1989 and honed his culinary skills working for major hotel chains like Hilton, Royal York, The Westin and Ramada before moving to Edmonton.
Soon after arriving to Edmonton, Sung became a part owner and an Executive Chef at Claude's where he worked for ten years. Sung joined the culinary team of La Ronde-Crowne Plaza for a year before accepting the position of Corporate Executive Chef for Sorrentino's Restaurant Group. Today Sung pours his passion and creativity into the delectable culinary creations at the new Bistecca Italian Steak House Wine Bar, owned by Sorrentino's Restaurant Group.
Chef Sonny Sung believes in cooking with passion. It is his passion toward cuisine that led him to success as Sorrentino's Corporate Executive Chef. Every dish that Sung creates and serves comes straight from his heart.