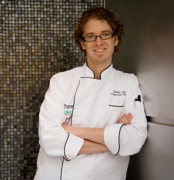 Nathin Bye
Corporate Chef and Partner for the Global Fusion Restaurant Group (Lazia, EAST and Wildflower Grill)
From a young age; growing up in a large prairie family, food was always important and pivotal for Nathin.  While other kids passed their time by playing in parks and riding their bikes, Nathin was honing his culinary skills with his grandmother in the kitchen and the garden.
After graduating from high school, he was initially set on a law degree with a background in international languages. However, working in the restaurant industry pushed him in a completely different direction.
Living off the adrenalin and buzz of restaurant life, Nathin enrolled in the N.A.I.T. Culinary Arts program. He toured with the school's culinary team showcasing his artistry in food and in the process, won national and international gold medals.  Nathin also attained an individual grand gold at the 2004 Culinary Olympics becoming the youngest Canadian ever to achieve that specific distinction.  Edmonton's 2012 annual Gold Medal Plates fundraiser for Canada's olympic athletes saw him capture the gold medal prize.
After some time of working in hotels and resorts Nathin settled in with a group of Edmonton based restauranteurs, to start bringing his take on cuisine to the masses.
Now almost a decade later his infectious passion and enthusiasm towards the culinary arts is determined, confidant and fun. With philosophies like letting ingredients shine, keeping it local and sustainable, and working everyday with staff; he leads his restaurants Lazia, EAST and Wildflower Grill on his mission.  To inject passion, excitement and intellect to Canadian cuisine and evolve how we appreciate food, wine and fellowship.  A lot of time is now spent giving back to the community in terms of fundraisers and donations.  His two largest campaigns are for Camp fYrefly as well as The Alberta Ballet.
He currently resides as the Corporate Chef and Partner for the Global Fusion Restaurant Group in Edmonton, Alberta.  You'll find him behind the lines at Wildflower Grill creating new and unique Canadian cuisine or bringing you fusion inspired cuisine at Lazia or EAST.