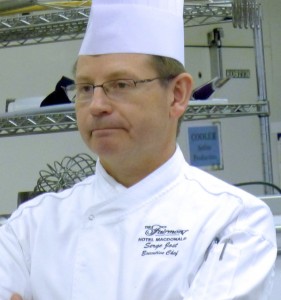 Serge Jost
Executive Chef
Fairmont Hotel MacDonald
Growing up watching his family run a country inn and restaurant in France, Jost dreamt of working in a kitchen. Following his studies at L'école Hôteliere de Strasbourg, Jost worked in Michelin-starred restaurants in France and Germany, including the renowned Hotel Ritz in Paris. He started with Fairmont in 1999 as Sous Chef at Fairmont The Queen Elizabeth and has since graced the kitchen of Fairmont Le Château Montebello as Executive Chef.
Chef Jost has developed a full range of menus throughout his career, but his preferred approach is simple, understated elegance. "I like to create dishes that feature local foods and allow the natural flavours, colours and textures to take centre stage. My ultimate goal is to make visiting The Fairmont Hotel Macdonald a true experience for our guests, whether they are having drinks and appetizers or a full meal," said Chef Jost. The new chef hopes to attract a diverse crowd for a range of dining experiences where any occasion can be made into a special occasion.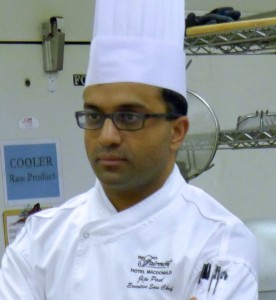 Jiju Paul
Executive Sous Chef
Fairmont Hotel MacDonald
Born and Educated in India, holding a Bachelor's Degree in Hotel Management from Karnataka Pradesh Hotel Management College in Bangalore, India, Jiju began his formal culinary career in 2002 with the Fairmont Dubai as a demi chef de partie.
In 2004 he won the Silver Medal for Main course, at the "Junior Chef of the Year and Salon Culinary Competition".
Jiju then made the jump to Canada where he transferred to Fairmont's Lake Louise property in, Alberta. From 2004 – 2007 .
In 2012 he joined the Fairmont Hotel Macdonald and has since earned his Red Seal at N.A.I.T culinary school.