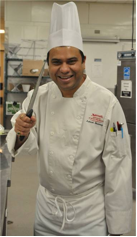 Ashish Bhatnagar
Executive Chef  –  Marriott Hotel at the River Cree Resort
Born and raised in Mumbai India, Ashish was always fascinated by the vibrant culture, exotic spices, herbs and diverse ethnic culinary foods of his environment.
He decided at an early age, that he wanted to travel the world and learn as much as possible about different global cuisines.
Upon graduating from high school, he commenced classes at the University of Mumbai but soon switched to another institution's culinary arts program since it was this profession for which he knew he had passion.
He then started his culinary career at reputed hotels like the Taj Mahal, Kempinski. The experience gained at these institutions proved to be invaluable and gave him great insights into all aspects of well-run culinary operations.
Ashish departed India to take a position on the Carnival Cruise Ship Line. This helped him to pursue his goal of travelling while providing him with a new experiences and opportunities to learn new skills.
In 1998, Ashish and his family moved to Toronto where he began working at well known restaurants such as North 44, Mizzen, and Allegro. His experiences and hard work were eventually rewarded with an offer of employment from the Westin Convention Centre. While in Toronto, Ashish continued his professional culinary education and obtained his Canadian Chef Certification.
He joined Marriott Hotels in 2003 and eventually moved to Edmonton in 2007 to open the kitchen at the Edmonton Marriott Hotel at the River Cree Resort. During his tenure at the Marriott, Ashish has received many culinary awards including being voted the Best Emerging Chef for Marriott Hotels in 2005. His abilities were also acknowledged by way of an award in the Cruise Industry Art Culinare Competition while working for the Carnival Cruise Line.