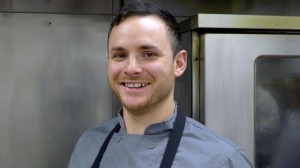 Chef – Alexei Boldireff
A graduate of NAIT's Culinary Arts and Retail Meat Cutting programs, Alexei has worked in some of Edmonton's finest restaurants including Cafe de Ville, Cafe Select, The Blue Pear, and The Marc. In 2012, Alexei took a Chef de Partie position in Calgary at Model Milk under Justin Leboe (Best Chef in Canada 2013). That same year, the restaurant was named #2 on En Route's Best New Restaurants in the country. There he climbed the ladder through management until 2013 when he left to open S'WICH Food Truck in Edmonton, which now also runs in the winter at Macewan University downtown.
An accomplished pastry chef, bread baker, butcher, charcuterer and chef, Alexei has staged in many kitchens with many notable Canadian chefs, including Connie de Sousa (Charcut, Top Chef Canada), Susur Lee (Susur, Lee Lounge), and Robert Clark (C Restaurant Vancouver). He has also cooked internationally working with Michael Reidt (Miami), Antonio Sorrentino (Chiancianno, Tuscany), Kevin Thornton (Dublin, Top Chef Ireland, Michelin Star), and Seasmus O'Connell (Cork, No Reservations).
His breadth of experience has led to a cooking style that is very much his own. Alexei's food is based around simple execution and big, bold flavours. When possible, he opts to craft every component of his dishes in-house, using only local ingredients from suppliers whom he knows and trusts. Presently, The S'WICH Food Truck boasts some of the best artisan bread in Edmonton along with creative, asian-inspired charcuterie. There is also a restaurant in the works, hopefully opening in the fall of 2016.