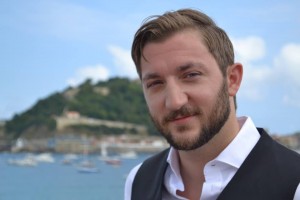 Eric Hanson
Meet Eric Hanson. A home grown, and now, Gluten Free Chef who's familiar with Edmonton's dining scene. Eric honed his craft traveling and cooking in 40 countries for over ten years before returning home to inject the community with his unique style. He spent two years in Australia, where he learned the art of seafood at Berardo's which earned 19 out of 20 in the Sydney Herald Good Food Guide. Eric was also the Head of the 5 Star Tala Private Game Reserve in South Africa where he got the chance to cook with a wide variety of game meats. Next Eric lived in England where he worked at a top 50 Wine bar in the U.K.
Recently Eric tied for 1st in the Indigenous Black Box Chef Off Challenge at Taste of Edmonton. He was the Executive Chef at Niche in Edmonton which placed #15 in Canada for Best New Restaurants 2012. He owns his own company: Chef Eric Hanson. He's the Executive Chef for Art by Pekoe, an emerging local artist, a Travel Writer for ArtTrends Magazine and a resident Chef on Breakfast Television.
These days Chef Eric can be found teaching at Get Cooking, with a very talented team of chefs. If you want to taste Chef Hanson's creations, he'll be teaching a wide variety of different cooking styles including Gluten Free.