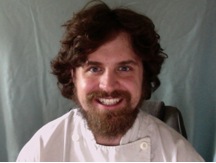 Bryan Meintzer
Sous-Chef          The Marc Restaurant
Bryan graduated from Edmonton's McNally High School and Metro Community College. He then obtained a diploma from the NAIT School of Hospitality & Culinary Arts and completed the Alberta Red Seal Apprenticeship program in cooking. Additional courses have included the Alberta Health and Wellness Alberta Food Safe and Hygiene Course and the Workplace Hazardous Materials Information System Certification course.
Bryan started in the hospitality industry in the early 2000's working at various Edmonton restaurant establishments such as Chili's Texas Grill, Four Points Sheraton Hotel, Jack's Grill and the Blue Pear Restaurant. Experience in preparing meals and buffets was augmented by additional duties which he assumed in developing menus and restaurant management.
In 2009, he moved to London England where he became Commis Chef at "Marcus Wareing at The Berkeley" in Knightsbridge. This is a two star Michelin restaurant which provides fine dining to sophisticated diners with modern European food and ingredients from all over the British Isles. He then became Chef De Partie at the Wild Honey Restaurant and the Arbutus Restaurant where his culinary expertise was honed in these very busy Michelin Star kitchens, especially with respect to meat and fish dishes.
Bryan returned to Edmonton as Sous Chef of the Blue Pear Restaurant where he specialized in preparing a wide variety of foods using both modern and traditional techniques.(some Sous Vide and Molecular Gastronomy applications). When this restaurant closed, he was recruited by Patrick Saurette of the Marc Restaurant to be Sous Chef with responsibilities for food ordering, staff supervision, menu planning and of course, meal preparation.
Although relatively young, Bryan's experience in several diverse restaurant environments has helped him to hone his skills not only in food preparation, but also in organization, leadership, teamwork and attention to detail.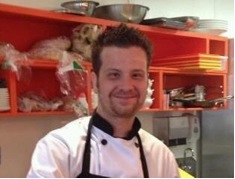 Scott Smith
Sous-Chef       The Marc Restaurant